Embracing opportunity while overcoming supply chain challenges
HLB's Survey of Business Leaders - Manufacturing analysis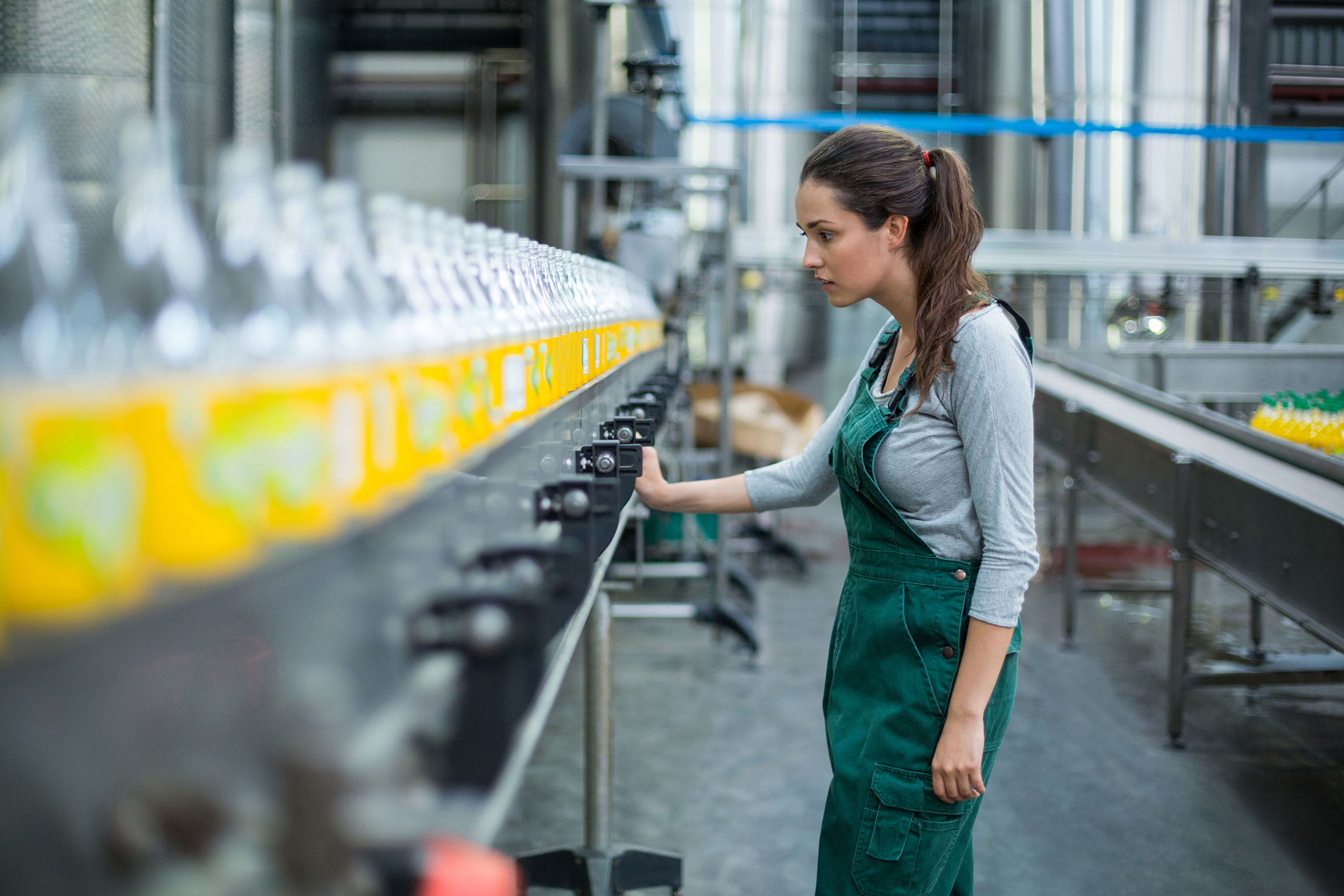 ---
Key survey findings at a glance:
Manufacturing business leaders are more optimistic about the economy than their global peers.
Improving efficiency and reducing costs are 'top of the agenda' for nearly all business leaders, however launching new products or services was the third most important action for manufacturing business leaders
28% of manufacturing business leaders plan to reassess their supply chain to source closer to home, opposed to 16% of their global peers
When COVID-19 shut down factories, companies across the globe felt the impact. Raw material delays combined with shipping bottlenecks affected nearly every manufacturing segment. Although some manufacturers saw a decline from reduced consumption, others thrived with newfound demand for products. 
Since many facilities require workers on the floor, businesses had to find a way to improve airflow and infiltration. Doing so resulted in higher utility usage and investments in air filter and duct improvements. Higher costs, reduced output, delayed supplies, and a decline in consumer demand posed problems. 
With rising shipping costs and uncertainty about new virus variants, manufacturing executives must improve operations and explore growth opportunities. To gauge executives' confidence levels across the globe, we conducted our HLB Survey of Business Leaders. From there, we looked at datasets from specific sectors to determine how manufacturing leaders plan to grow revenue and build resiliency into their operations. 
Overall, manufacturing leaders express more confidence about the upcoming months than their global peers. However, uncertainty still exists. Learn about the challenges affecting the industry and what steps leaders are taking to persevere.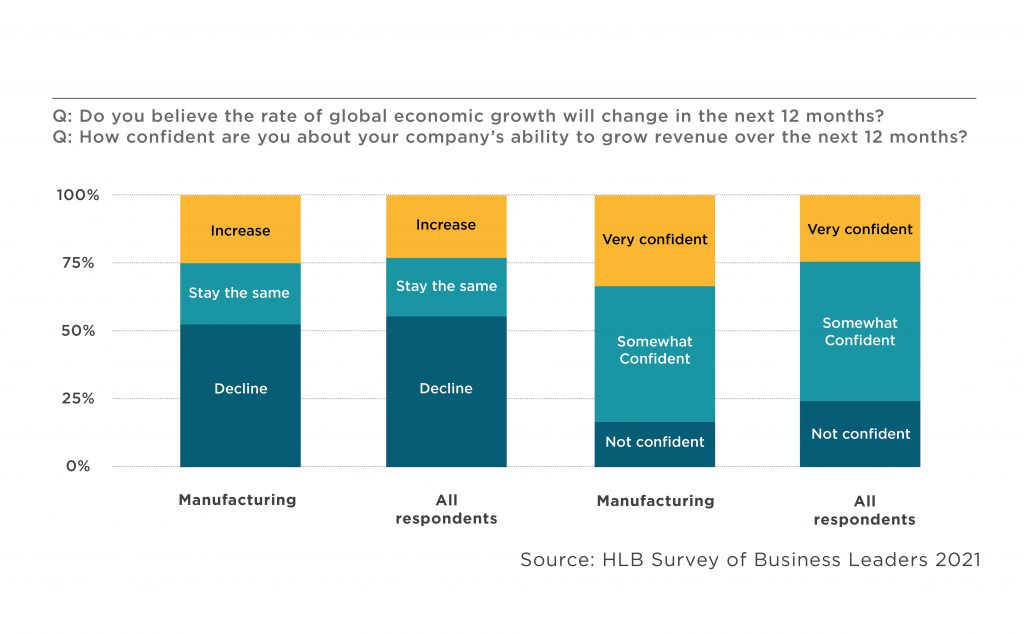 Pent-up demand increases manufacturing optimism
Curtailments during the pandemic drove up demand for manufacturing in certain sectors, such as pharmaceutical and medical equipment. Other segments adapted factory lines to produce goods for the direct-to-consumer (D2C) market. But some, such as food and beverage manufacturers, saw reduced demand for out-of-home products.
 After over a year of restrictions, people are anxious to spend money on goods and services. Moreover, professionals feel optimistic about the continued vaccine rollout and the systems used to ensure business continuity. Consequently, leaders anticipate a surge in consumer and wholesale spending. 
On a global scale, manufacturing leaders are slightly more optimistic about the rate of economic growth. 25% expect an increase, whereas just over 50% believe it'll decline. Like their global peers, executives overwhelmingly believe economic uncertainty and the impacts of COVID-19 are the top two threats to growth. Nevertheless, the manufacturing industry faces other challenges. 
Lingering questions about barriers to growth
Rising costs and supply chain issues continue to plague manufacturers, as 62% of leaders worry about international trade flow disruption and 58% express concerns over geopolitical uncertainty. Although Brexit initially caused concerns, organisations are adjusting to new regulations and paperwork. Yet, nearly all manufacturers face ongoing supply chain and shipping issues.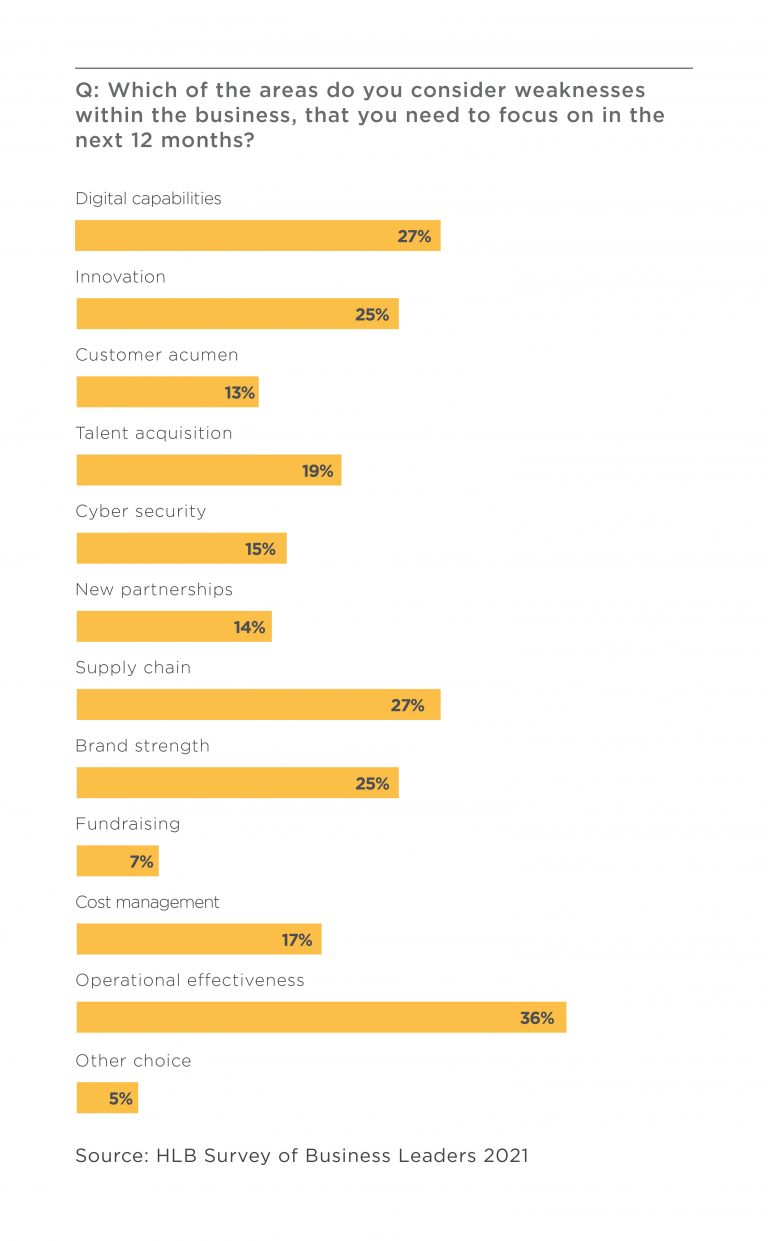 The Suez canal was just one high-profile incident during many months of delays. Bottlenecks at ports reflect an ongoing container shortage, with average container wait times for Asia to North Europe trade increasing by an estimated 35 days. The unprecedented problems even led Ikea to address delays with customers on Facebook, saying: "The surge in demand worldwide for logistical services at this time has resulted in a global shortage of shipping containers, congested seaports, capacity restraints on vessels, and even lockdown in certain markets." 
The combination of challenges has skyrocketed spot freight rates. Mark Yeager, chief executive officer of Redwood Logistics, told American news station CNBC that "freight rates from China to the U.S. and Europe have surged 300%" compared to March 2020. Additionally, major shippers like Hapag-Lloyd increased congestion surcharges from North America to United Kingdom ports. Container production is expected to increase, but high consumer demand for products creates a cycle of shortages that may impede fast shipments of raw materials and goods manufacturers require for seamless operations. 
Furthermore, 50% worry about regulatory change, and 48% are concerned about exchange rate volatility. Each of these issues can hinder the flow of goods from manufacturers to retailers while increasing costs. To ensure rising prices and other concerns don't become a barrier to growth, manufacturing leaders aim to enhance operations in various ways. 
Manufacturers' top growth priorities  
Increasing operational efficiency and reducing costs are at the top of the list for the majority of industries. Compared to their global peers, manufacturing leaders are 15% more likely to focus on operational efficiency. Although organisational improvements are always a goal, the pandemic and ongoing logistics issues emphasised its importance. 
As leaders concentrate on reducing supply chain disruptions, it's essential to ensure smooth delivery of materials and goods. Operational objectives vary by segment and consist of digital systems, automation, workforce upskilling, and many others. 
The third most crucial action is launching new products, with 43% of executives prioritising it. Consumer behaviour changes drive innovation as manufacturers search for ways to embrace opportunities. Moreover, 41% are focusing on organic growth versus 37% of their global peers. Using existing resources to enhance sales and increase output fits the overall goals for efficiency and cost reductions. 
In addition, 29% aim to invest in human capital, and 24% will prioritise the adoption of emerging technologies. Upskilling workers to meet upcoming technology needs will help manufacturers navigate forthcoming changes. To meet growth objectives, leaders also plan to address business vulnerabilities. 
Goals to strengthen manufacturing weaknesses
Similar to global leaders, manufacturers consider operational effectiveness a core weakness needing improvement in 2021. However, executives in manufacturing cite supply chain issues as a more significant vulnerability than their global peers. With 27% noting it as a weakness compared to 16% globally. 
Before the pandemic, international trade tensions highlighted procurement and distribution problems. But, lockdowns affecting factories in China and Asia also impacted numerous manufacturing segments. Port bottlenecks, shipping container shortages, and labour deficits compounded these issues. Consequently, executives are exploring alternative suppliers and considering sourcing raw materials regionally. 
27% of leaders also emphasise the importance of improving digital capabilities this year. Using technology to reduce errors and optimise processes can support supply chain, cost reduction, and operational goals. 
The manufacturing sector also considers brand strength a weakness, with 25% focusing on it compared to 20% of global leaders. This may be due, in part, to executives looking for opportunities in the D2C sector. As companies moved to online purchases, manufacturers lacking online presences faced stiff competition. To retain and grow market share, leaders must boost brand visibility. 
The expansion of digital capabilities
Digital capabilities vary widely across the manufacturing industry. Therefore high-tech sectors may prioritise technological expansion, whereas more traditional facilities may spend fewer resources in this area. Although nearly 50% of global leaders consider cloud computing important to future business success, only 35% of manufacturing executives say the same. 
Cloud computing, robotics process automation (RPA), and the internet of things (IoT) rank in the top three technology advancements considered most important for business leaders. Both RPA and IoT support operational efficiency while bolstering weak areas, such as operational effectiveness. Likewise, the technologies can help leaders address existing supply chain issues, with 88% agreeing that technological advancements will help overcome cross-border business challenges.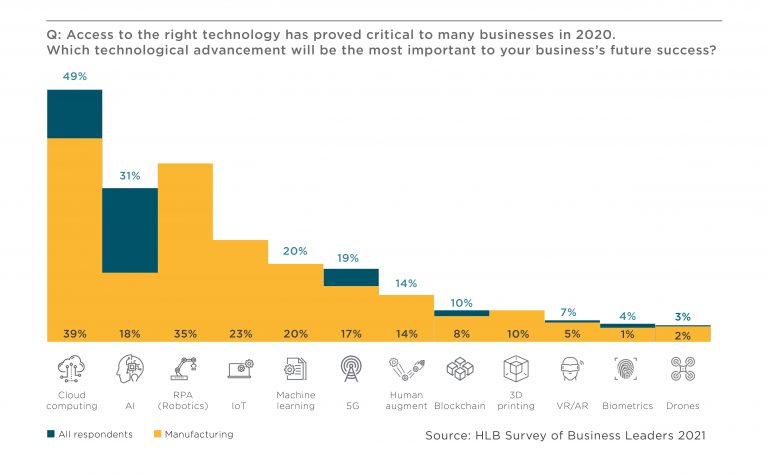 Steps to attract a skilled labour force 
Appealing to a diverse and skilled labour force continues to be a priority for manufacturers, with 81% of leaders saying a more diverse and inclusive workforce will ultimately improve financial performance. Also, 83% acknowledge that building diversity in the board and workforce is increasingly important, and 98% agree on the significance of ensuring equal support and opportunities, particularly in the current environment. 
Interestingly, 65% believe remote working will make it easier to source diverse talent in the future. Although many warehouse and factory positions require on-site workers, technological advancements can enable virtual oversight of critical processes related to safety and compliance. For example, cloud-based gas detection and air quality systems allow management to oversee and act on real-time safety data from any location. 
Factories that adopt state-of-art processes, equipment, and products may have an easier time attracting tech-savvy and diverse individuals. Moreover, growth objectives geared towards investing in human capital can focus on upskilling workers to navigate the shift towards RPA and artificial intelligence. 
Preparation for climate disruption
During the pandemic, many companies put green initiatives on the back burner. However, 72% of business leaders in manufacturing are making changes to their business to profit in the low-carbon economy. Specific segments, such as iron, cement, and steel production and chemical and paper operations, face extra challenges from potential regulations. Countries will continue to monitor direct greenhouse gas emissions and expect corporations to take action or face steep fines. 
Since many regions focus on a greener economy by 2030, manufacturing leaders must act now to ensure compliance and growth. Fortunately, potential tax credits or government initiatives may help manufacturers start small with green goals. By testing various tactics on a smaller level, companies can assess which activities are sustainable and explore ways to create greener businesses at scale. 
Climate concerns also expose potential opportunities for certain manufacturing segments, both with branding and products. Companies can leverage green capabilities to reach a larger market segment while producing goods geared toward climate-aware individuals. Furthermore, sourcing raw materials closer to home and increasing operational efficiencies can support sustainability objectives while helping manufacturers prepare for future climate disruption. 
Re-discovering the human connection
Like global leaders, 94% of manufacturing professionals agree that staff physical and mental wellbeing is a top priority for human resources. Additionally, 83% agree that social distancing and remote working make it challenging to deploy the value of the human touch in their businesses. Social distancing rules on factory floors and remote office workers affect company culture, making it difficult to sustain connections vital to employee morale. 
Indeed, 49% of executives miss collaborative working, 38% report it's harder to establish trust remotely, and 34% say it hinders creativity. Vaccine rollouts, improved air filtering systems, and an expansion of safety protocols can make workers feel more secure in warehouses and factory lines while enhancing corporate culture. 
Confident in ability to adapt post-pandemic
Our HLB Survey of Business Leaders finds that 93% of manufacturing executives are confident in their ability to successfully steer the business in a new direction in response to the impact of COVID-19. Moreover, they feel more optimistic than their global peers regarding their company's growth prospects, with 83% of manufacturing leaders expressing confidence versus 75% of global executives. Notably, 35% are very confident in contrast to 25% globally. 
Challenges create manufacturing opportunities
Any challenge opens the door for opportunity, especially for businesses nimble enough to adapt quickly. Although concerns remain about price increases, raw material shortages, and shipping delays, agile manufacturers can assess ways to mitigate issues going forward. As the demand for products and services increases during 2021, leaders who devise strategies that protect their bottom line and grow their market share can stand out from the competition.
Methodology
Findings in this article are based on 88 survey responses from manufacturing business leaders collected in quarter 4 of 2020, as part of HLB's Survey of Business Leaders 2021. The majority of businesses surveyed are privately or family owned. For the full research report see HLB's Survey of Business Leaders 2021: Achieving the Post-Pandemic Vision: leaner, greener and keener.
---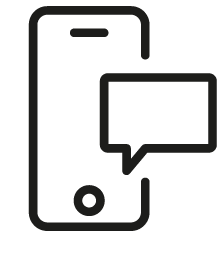 Get in touch
Whatever your question our global team will point you in the right direction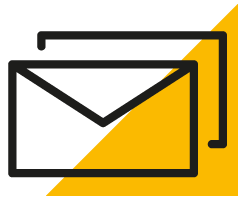 Sign up for HLB insights newsletters